Delicia Cocada Candle
Regular price
Sale price
$26.00 USD
Unit price
per
Sale
Sold out
Relish gentle aromatherapy with this exquisite, coconut scented candle. Handmade from natural soy wax and toxin-free fragrance, Delicia Cocada | Coconut Bliss delivers a buttery and soothing coconut scent that will elevate your ambience to one of refined luxury. Perfect for pampering, our coconut candle will provide you with a peace of mind reminiscent of an escape to a tropical, untouched beach surrounded by warm sand and clear ocean water, all in one flame.
Fragrance notes: 
Top: Pineapple + Amaretto
Middle: Coconut + Coconut Milk + Banana
Base: Tonka Bean + Vanilla
Share
Product details

Vessel size: 16 oz
Net weight: 12 oz
Diameter: 3 1/2 in
Height: 4 1/8 in
Burn time: Up to 80 hours

Vessel size: 7.5 oz
Volume: 5 oz
Diameter: 2 3/4 in
Height: 3 1/4 in
Burn time: Up to 35 hours
Directions for use

* When lighting the candle the first time, let it burn for 2 or 3 hours, or until all the wax on the surface has become liquid from edge to edge.
* Trim the wick, regularly, ideally with a wick trimmer like our exclusive model which you can view and add to your cart here.
* If your wick becomes uncentered, after extinguishing the flame, take advantage of soft wax to re-center, with a wick dipper to ensure consistent wax burn.
* Here are more tips that will help you make the most out of your candle in the best conditions.
Clean ingredients

Clean ingredients to help you indulge in your moment of rest with peace of mind.

* all natural, U.S. soy wax
* unbleached, lead-free cotton braided wicks for even burning and minimal sooting
* always a vegan, cruelty-, toxin-, parabens-, and phthalate-free burn of up to 80 hours
* opulent, reusable vessel
Burn & learn

Why are the parabens found in traditional and mass-produced candles harmful? They're inexpensive preservatives. When burned, they release toxic compounds.

Artisanally crafted and hand poured, Viviana Luxury eliminates the cheap, bad stuff, opting instead for the safest and most luxury ingredients worthy of our customers.
Shipping & returns

Shipping policy

Viviana Luxury takes 2 business days to process an order. During the busy holidays, please add 2 more business days. We ship using FedEx Ground, UPS Ground, or USPS. For more information, see our shipping policy.

Refund policy

We understand there may be occasions where you wish to return an item(s). We offer a 14 day return policy. You can return your purchase, in its original condition, within 14 days of the date you received it and receive a refund. For more information, see our refund policy.
View full details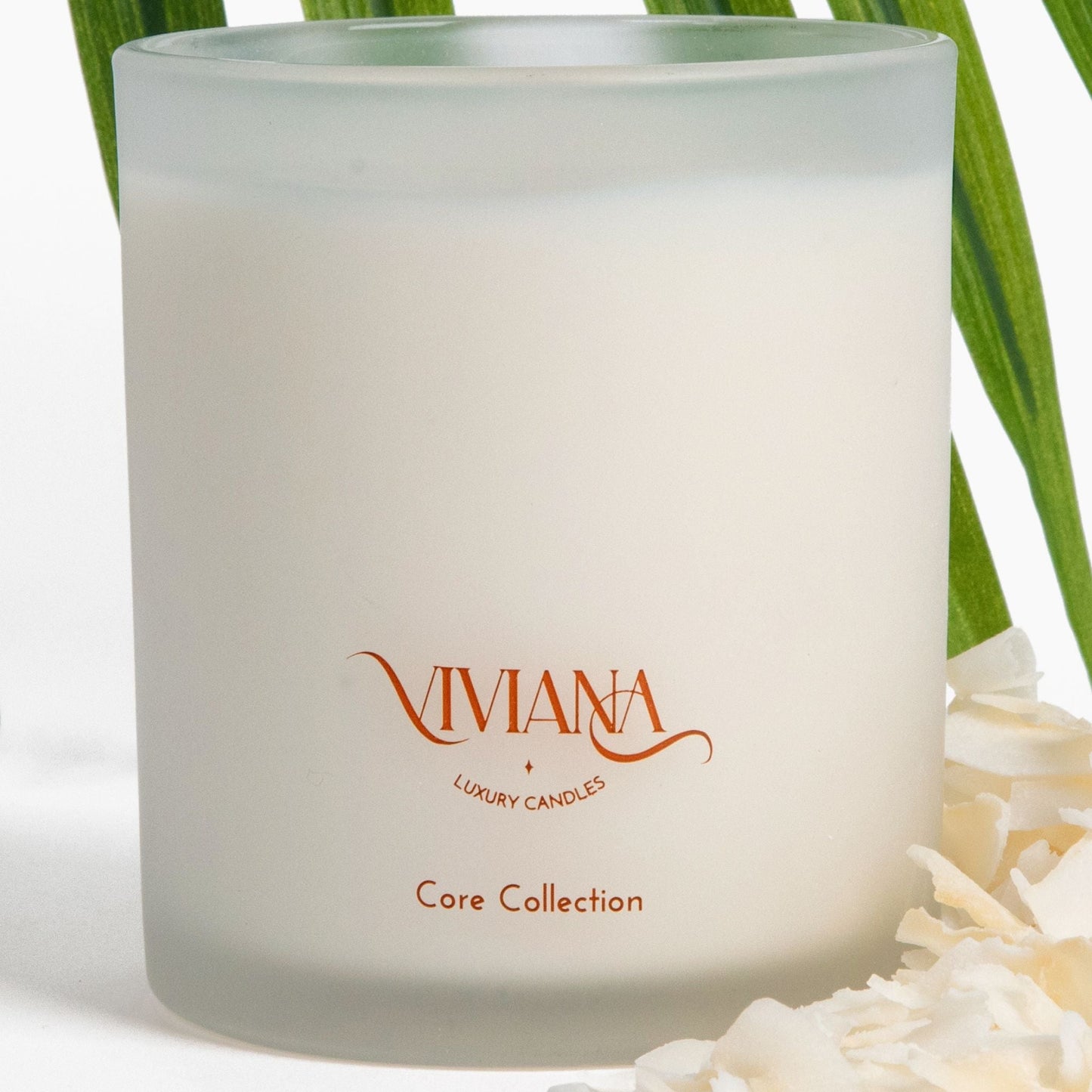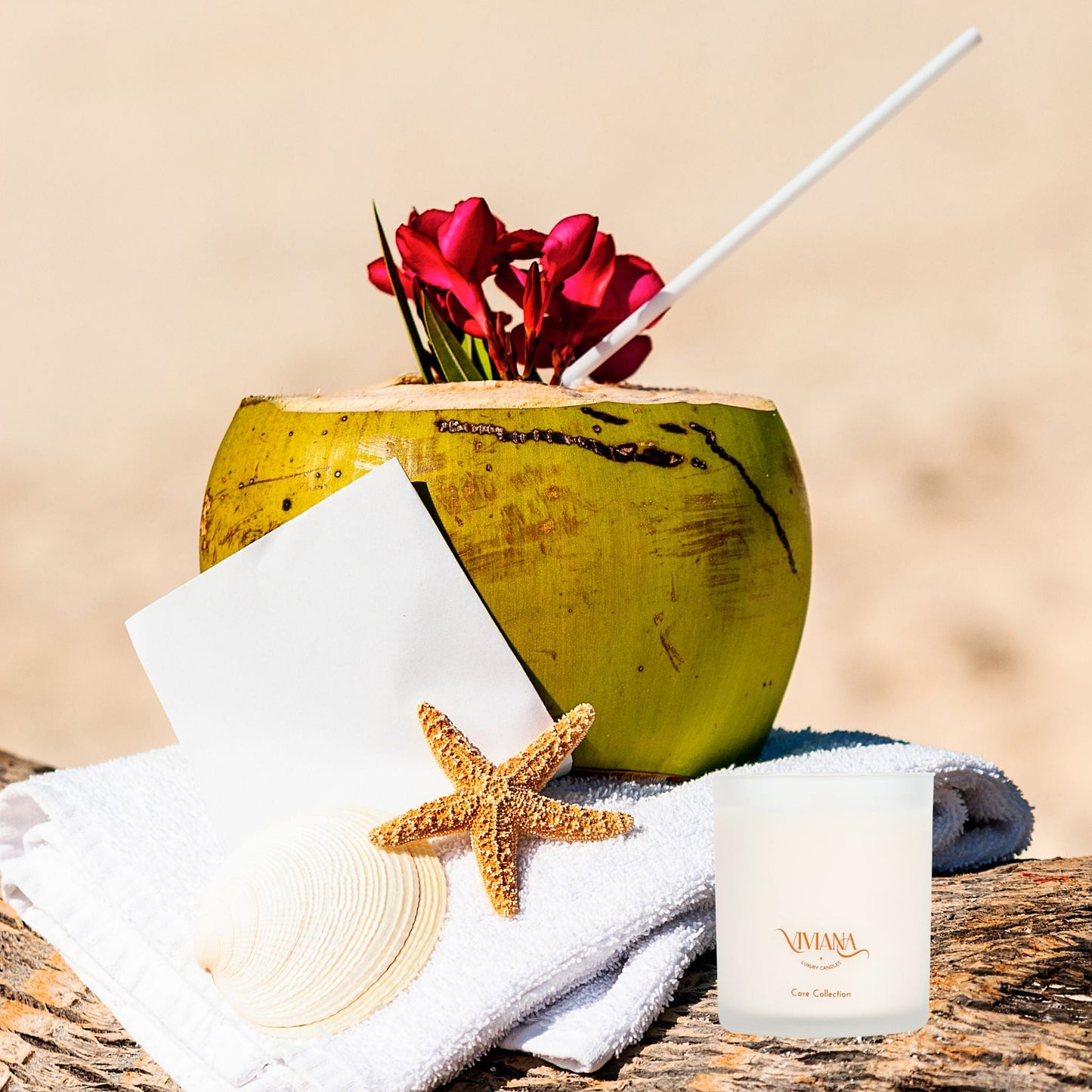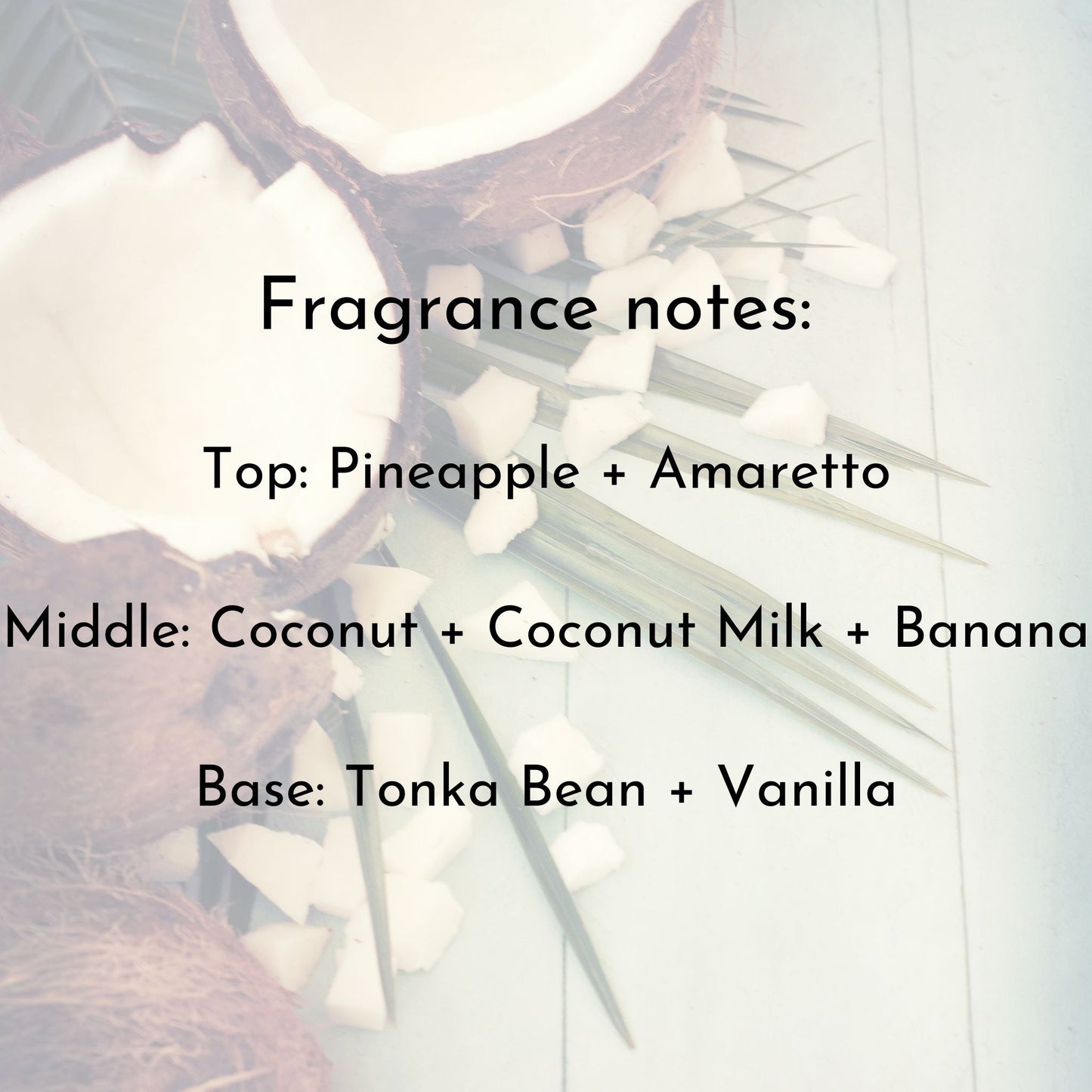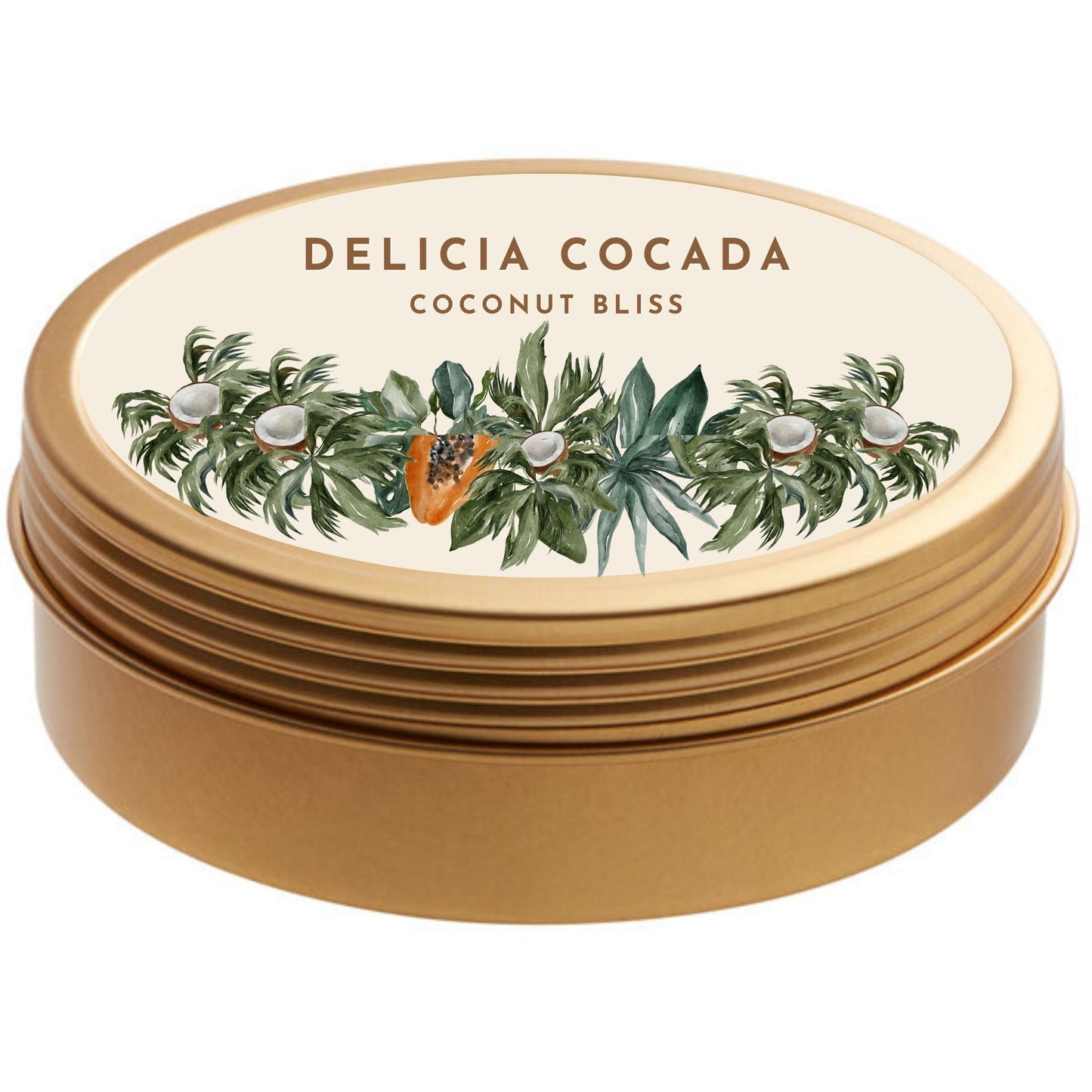 Instant relaxation
My husband surprised me with a delicious-smelling candle. I lit it and was immediately in a place with wafting ocean breezes, palm fronds moving gently, and slow, deep breaths. What an awesome gift and amazing candle.
We love that you love our candle-gift from your husband. The subtle exquisite fragrances prompting slow, deep breathes is exactly what we were going for when formulating, blending, and hand pouring our candles, thank you!
Not a candle guy, but now I am!
I was a little skeptical about ordering a candle online without smelling it, but the descriptions were unbelievably accurate. This candle feels like a warm towel hug after a long day of sun on the beach. It burns smooth and subtle. The passion and love that goes into these candles are clear from the moment the box arrives. I do a lot of online shopping (probably too much), and I've never felt so much care go into the packaging - especially for such a small item. Everything is so securely packed but easily deconstructed for recycling. The thoughtful branding, personalized note, and care instructions really put it over the top. It was like receiving a little gift just for me. I'd feel comfortable sending this as a gift straight to whomever. This is better wrapping than I could do myself. Overall, best candle experience I've ever had.
'This candle feels like a warm towel hug after a long day of sun on the beach.' Wow, this is such a thoughtful review which captures all the care and amor which goes into each candle: from hand blending, luxe, spa-like fragrances, to purposefully choosing recycled and recyclable, elevated packaging. We're thrilled you love them, and so much, that with this experience, you feel confident gifting them to someone, sight (or smell) unseen. We're humbled and beyond grateful!
The perfect gift for self or someone else!
I received this fragrant candle for Valentine's and what a perfect gift! It's high quality candle, which means there is no burning smell and it's also not overpowering. The personal message from the owner was an unexpected surprise. I love that this brand supports Latin culture and it is female owned. Viviana Luxury candle is exactly what you need for self care and to gift that special someone.
We love that the fragrance is on-point: not overpowering. We spent hours testing, formulating, scrapping what didn't work, to produce a quality candle that makes a perfect gift for yourself or a special someone, thank you!
Candles that compliment why we come home.
Some people come home and the first thing they do is put on comfy clothes, pour themselves a glass of wine or go to their stereo and turn on the quiet storm. Not me, I light my candle to start the mood of relaxing. The candles have a clean peaceful look that's convertible. They can go in the living room, in our kitchen or in our bathrooms, it just works! A phenomenal accessory!
'Turn on the quiet storm': that's exactly what we we're going for: creating a beautiful and clean candle and experience that help guide your relaxation: whether that's a glass of wine, music, slipping into comfy clothes, or all the above. Thank you!
I love all things Coco.
I was having a difficult time choosing between the Delicia Cocada and Castillos de Arena, but I think I made the right choice. I absolutely love it. It has been part of my meditation and self-care routine. The next purchase will be the Castillos de Arena. I'm sure it will be just as fabulous.
Delicia Cocada was inspired by my summers in Colombia and the delicious cocada/coconut fritter snacks that street vendors sold on the beaches: just pure ingredients and goodness. That you love it as much as you do is everything to us, thank you!
Let customers speak for us